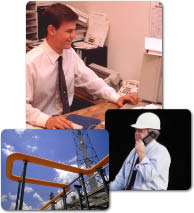 Peacock Tags, Inc. specializes in engraved, embossed, and vinyl signage and identification products for almost any application. We provide the identification products you need in the following materials: laminated plastic, phenolic, lamicoid, stainless steel, aluminum, and vinyl. We use the term tag loosely to keep things simple. A tag to us is any identification product whether it is a nameplate, sign, sticker, or any other identification product. To keep it simple we just call all of the ID products "TAGS".

The company has continued to grow and reach customers across the United States and worldwide through its excellent reputation of first class customer service. Peacock began as a small company with personal service and continues to approach business in the same manner today. You will actually get a "live" person on the line when calling and will not be rushed while placing your order. Attention to the customer and attention to the details is what has made Peacock Tags, Inc. successful and we promise to always give each customer the service they deserve.

The staff at Peacock appreciates their existing customers immensely and looks forward to the opportunity to meet new customers and provide your identification needs.